We all need a good night's sleep, not just for our health but also our well-being and having a comfortable bed is a major part of ensuring we all get more than 40 winks.
At Move Mobility we understand that mobility issues can mean sleep is a struggle which is why we have the perfect beds -designed to give you the support and comfort you need.
All our beds have fully adjustable heights and inclines to give you the perfect sleeping position at the flick of a switch after all, if you are spending more time in bed these days, you need to maximise your comfort.
We understand too that you want your independence, and our beds give you the extra assistance you might need to get up and out in the morning.
Our range features the best in electric adjustable beds so that you can choose the position and the incline best suited for you and your needs and our choice of soft, medium or firm mattresses.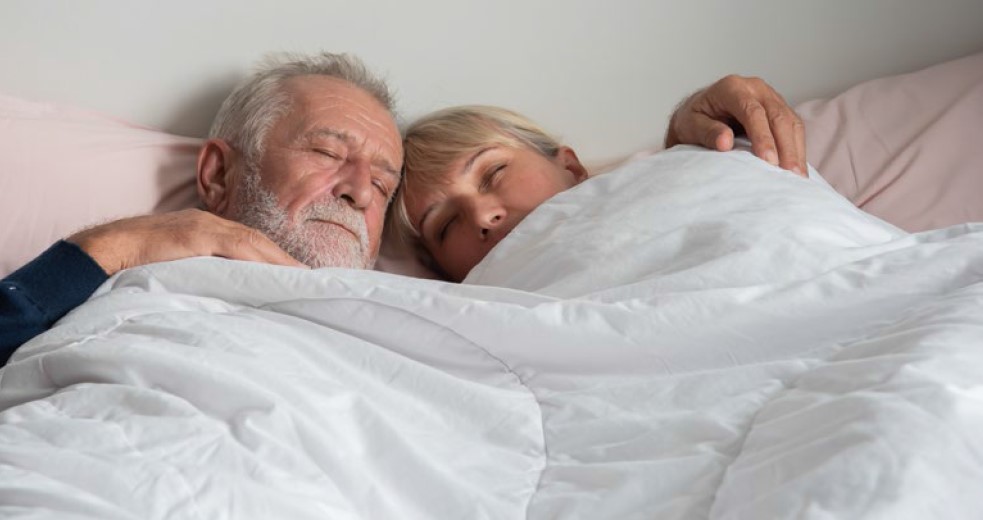 As well as ensuring you sleep well, our beds help with a variety of ailments and aches and pains.
Improved Blood Flow –if you suffer with poor circulation raising your feet can prevent swelling in the feet and ankles and help get your heart pumping.
Reducing Neck Strain
Elevating the Upper Body
Enabling Zero Gravity
Relieving pressure on the back and legs
Alleviating sleep apnoea and even snoring!
Or please fill in the details in the form, and we will get back to you as soon as we can.
Thank you.
With five adjustable sections, our beds are more flexible and provide more support to your body than standard beds.
The variable settings such as the high to low setting are ideal if you have carers in to tend to your medical needs and the wallhugger is perfect for sitting up and watching TV.
Our beds are operated by an easy to use and easy to hold remote control giving you the independence to choose your own settings and your own position whether it be elevating your head and neck, or legs and feet or reclining.
When you are comfortable the remote control simply clips to the side of the bed so it is always at your fingertips.
All of our bed options come with a choice of three mattresses –firm, medium or soft and feature benefits including memory foam to support the contours of your body and a 50mm layer of reflex foam to prevent you rolling or tossing and turning in bed.
Our range of mattresses also feature adaptive sleep technology ensuring you are kept clean and dry all night.
STRATUS
The Stratus is our king of beds both in terms of its' size and luxuriousness. With its' four-part surround, the bed is elegant yet practical with a deep padded headboard and footboard.
Your bed comes with a memory foam mattress with a layer of reflex foam ensuring you won't roll into the middle.
The mattress also contours your body for the ultimate in comfort and support making it less likely that you will have a restlessnight and ensuring you don't toss and turn.
The bed frame is adjustable to five different positions giving comfort and support to different parts of the body all with the accessibility of the remote control.
The Stratus is also perfect for a smooth and seamless sleep thanks to its' design –simply choose the mattress best suited for you.
Our mattresses contour your body for the ultimate in comfort and support making it less likely that you will toss and turn and promoting a peaceful sleep.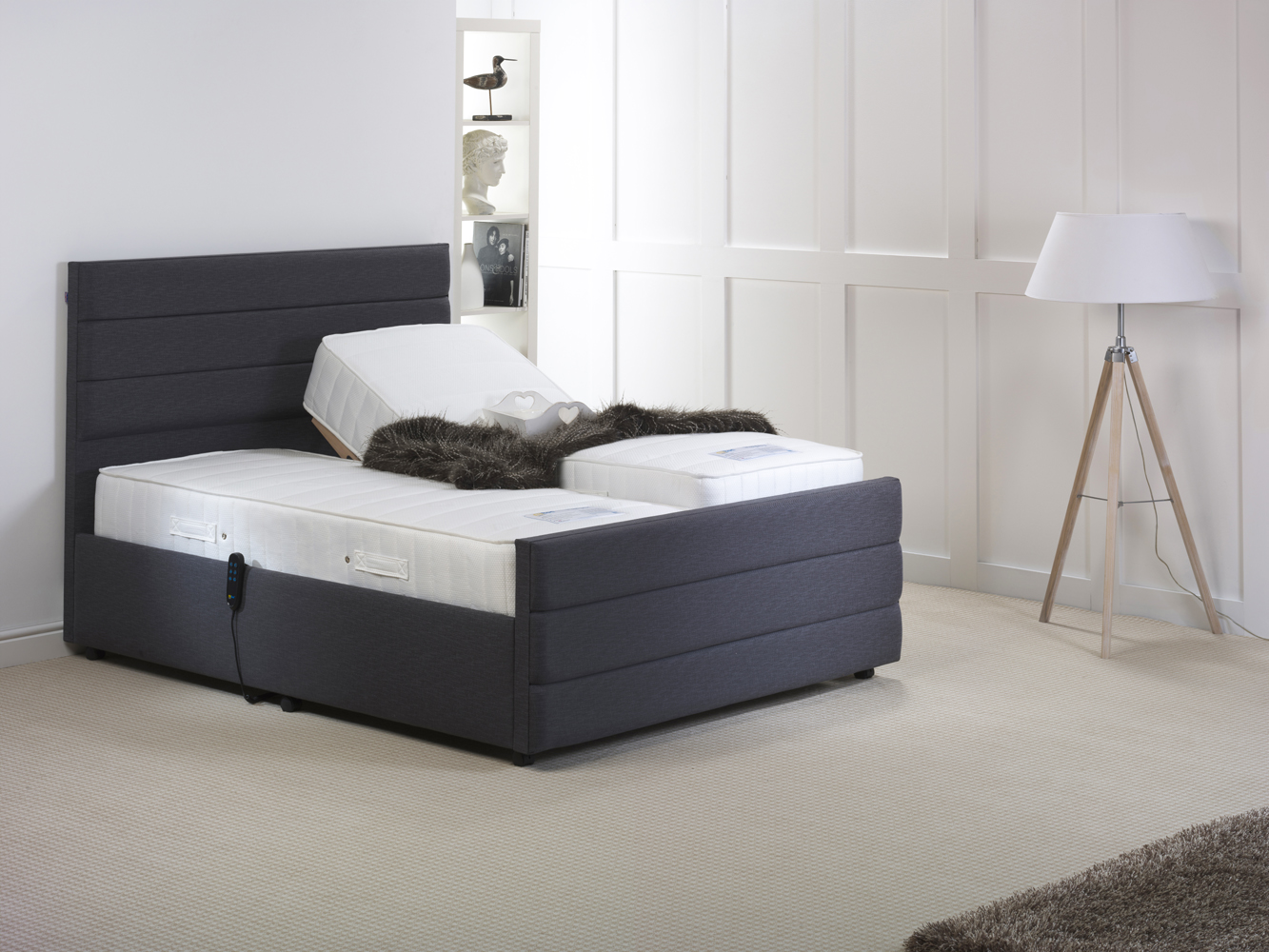 CIRRUS
The Cirrus is a fully upholstered luxury bed and a dream to sleep in with all the benefits of an orthopaedic fully adjustable bed frame.
The motorised frame means you can adjust and incline the bed to best suit your needs whilst the deep padded headboard and footboard give it an elegant feel.
Practical with a choice of mattresses it comes with a remote control as standard control with six buttons and the option of upgrading to a massage system.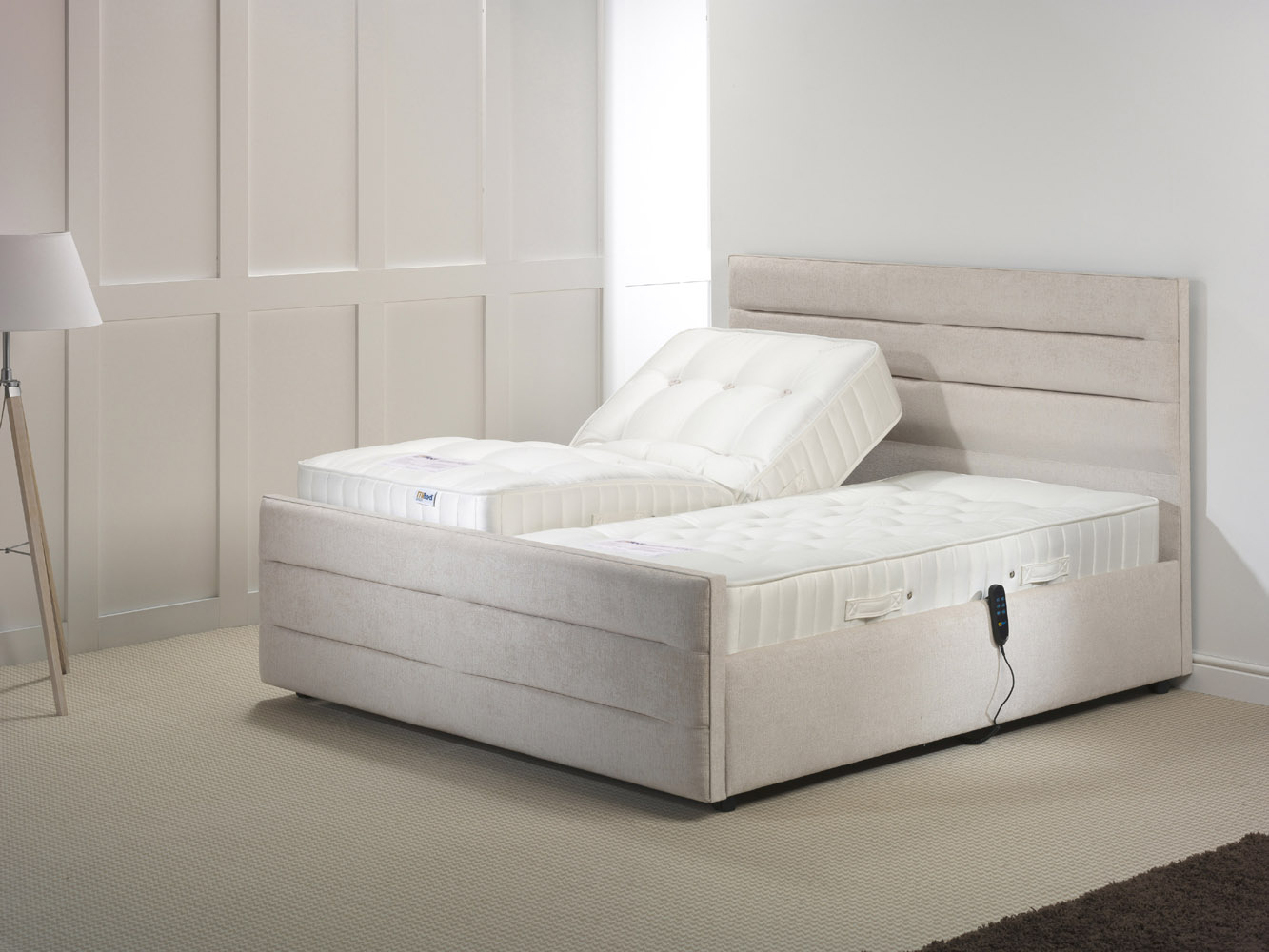 NIMBUS
With its' deep-padded headboard and four-part surround, the Nimbus offers the finest comfort you would expect from Move Mobility but with the added advantage of being a split bed.
If you want to sit up and read but your partner wants to sleep, the bed moves independently so you can choose the option that best suits on your side of the double mattress rather than having to have the same settings as your sleep partner.
Practical yet stylish and sophisticated, the Nimbus comes in a variety of finishes to suit your bedroom décor.